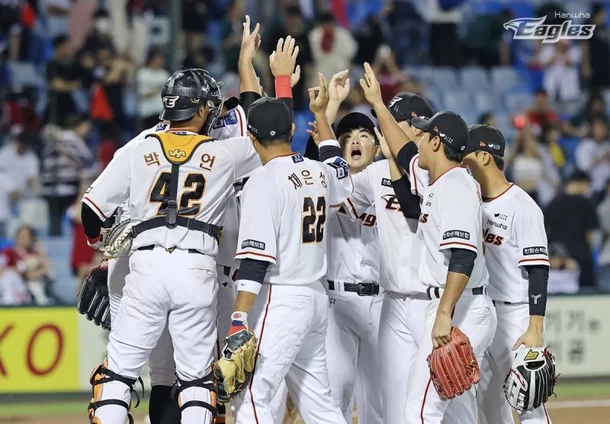 Kiwoom's attack, trailing by 1 point. Bottom of 9th inning, 2 outs, bases loaded. Dawson's last hit passed through Park Sang-won. If it was missed, it was a walk-off hit. But a savior appeared. It was Lee Do-yoon. Like Superman who appears in a crisis situation in a cartoon, Lee Do-yoon cleared the ball like a painting and completed the final out count. That's how Hanwha's miraculous 6-game winning streak was completed.
For other teams, 7th or 8th place doesn't mean much unless they are at the bottom. There is no big difference between 8th and 9th place. Rather, it may be better to go lower in order to be able to introduce good prospects. But not for the Hanwha Eagles.
Hanwha won both games 1 and 2 of the double header during their visit to Gocheok, and recorded an exciting 5-game winning streak. The Hanwha Eagles achieved a thrilling victory by 1 point in the home game against SSG for two consecutive days, and then swept the entire Gocheok 4-game series against Kiwoom, effectively putting them in last place.
In the first game, Hanwha recorded 14 hits and defeated Kiwoom Heroes 11-2. Hanwha starter Kim Ki-joong pitched well in 5 innings, allowing 7 hits, no walks, 2 strikeouts, and 2 runs. This is the first win in about two years since the KT Wiz match on August 31, 2021. In the second game, Nam Ji-min's good pitching stood out. In the top of the 7th inning, tied 1-1, with 2 outs and runners on first base, Noh Si-hwan's fly ball was raised. The fielders delayed each other and turned it into a 'double hit'. Kiwoom center fielder Ronnie Dawson also misunderstood the location of the dropped ball. During this time, runner Oh Seon-jin hit home on first base, and it became the winning hit of Game 2.
In the last game, the team's batting and defense became one in harmony. Hanwha completely took the lead in the early stages of the game, scoring 5 runs in the top of the 3rd inning when Moon Hyun-bin hit a 3-pointer, and 4 runs in the top of the 4th inning when Chae Eun-seong hit a 2-run home run, creating a series of big innings.
It is the first time in exactly 20 years since 2003 that Hanwha, which had 50 wins, 6 draws and 62 losses this season, has recorded a "swip" in four consecutive games, including a doubleheader. He repeated the milestone in 7,300 days after winning four consecutive sweeps against the LG Twins in Daejeon on September 13-15, 2003.

The Hanwha Eagles beat the Kiwoom Heroes by a whopping seven games. Considering that there are only about 30 games left, it is a quite big game car. This means that the possibility of losing the last place is very high. Hanwha also increased its chances by three games to Samsung.
Above all, it is nice to see that Hanwha is taking the victory at the same time as securing next season as new pitchers such as Nam Ji-min, Han Seung-joo and Kim Ki-joong cheer up in recent games. There is no possibility of renewing his contract, but Williams's role and winning proves that he can perform well enough if he picks a good batter mercenary next season.

Pitchers also have high expectations. Big. Sanchez, Peña, and Moon Dong-joo's three-punch is solid. On top of that, alternative resources of original ace Kim Min-woo, who is recovering from injury, Nam Ji-min, Han Seung-joo, Kim Ki-joong, and Kim Seo-hyun of promising players are competing. The biggest fish, Hwang Joon-do, will also enter the competition.

The relief pitchers are also solid. Yoon Dae-kyung, Joo Hyun-sang, Park Sang-won, and Kim Bum-soo are not bad. Above all, the presence of closer Park Sang-won is a great help. It is because Park Sang-won, the guardian deity, can have a psychological stability that if you are ahead, you will win unconditionally. Park Sang-won pitched two innings on September 6, 1.1 innings on the 9th, and one inning on the 7th, holding out brilliantly despite his tremendous hard work.
It is no longer appropriate for Hanwha to say that the team has a lot of mistakes. The 1-2-3 shortstop line formed by Noh Si-hwan, Lee Do-yoon, Moon Hyun-bin and Chae Eun-sung does not fall apart compared to any other team. In particular, shortstop Lee Do-yoon is like Hanwha's treasure. He is close to the most perfect shortstop in offense and defense among recent players. With his skills, he overcame the competition with Ha Joo-seok and won the ruler. There are Jung Eun-won and Ha Joo-seok here, and there are good prospects like Lee Min-joon. The infield has no worries.

In the end, Hanwha's tasks can be summarized as developing pitcher development resources in the promising main group, somehow filling the outfield position, including mercenaries, and having the experience of the team to fight 144 games to the end.
The moment of Hanwha's elimination from last place is approaching. However, the Hanwha Eagles are not satisfied here.Hanwha is continuously raising its ranking 메이저사이트 at the end of the season, aiming to be more than the last place. Hanwha Eagles' next goal is seventh place. This is because it is within the range by two games from Lotte.

It is difficult to advance to the semifinals, but it is also another attraction for professional baseball fans to see how far the Hanwha Eagles can raise their rankings in the last remaining game.