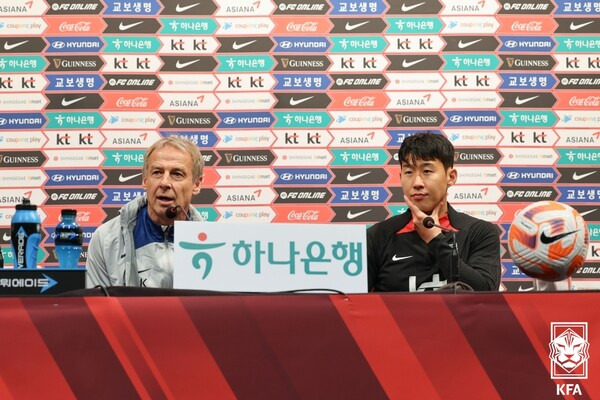 Son Heung-min's rest is good news for Tottenham Hotspur. In response, local Spurs fans are apologizing and thanking coach Jürgen Klinsmann.
The South Korean national soccer team, led by Jürgen Klinsmann, won a 4-0 friendly against Tunisia at Seoul World Cup Stadium at 8 p.m. on Sept. 13. It was the first back-to-back wins for the 'Klinsmanns' since their last victory over Saudi Arabia.
World Cup qualifiers in November, Asian Cup in January. Tunisia was a good test to prepare for the teams they would face in the higher rounds of the Asian Cup. Klinsmann called up the entire squad for the match, including Son Heung-min, Hwang Hee-chan, Kim Min-jae, and Lee Kang-in.
Leading up to the match, the national team was in better form than ever. Lee Kang-in, Jung Woo-young, and Seol Young-woo won gold medals at the last Asian Games, while Kim Min-jae had established himself as the starting center back for Bayern Munich. Hwang Hee-chan was in peak goal-scoring form as Wolverhampton Wanderers' 'fixer', scoring five goals in the league alone, and Son Heung-min was in fine form, almost leading Tottenham.
But there were concerns. Son's physical condition. After showing signs of injury at the start of the season, Heung-min has been linked to a number of fitness issues recently. Tottenham have taken that into consideration and have been keeping him off the field as much as possible. Manager Enze Postecoglou was asked about the A-League player during his press conference ahead of the last match against Luton Town.
He said, "You have national team experience. Have you spoken to Jürgen Klinsmann about Son Heung-min's injury and fitness?" "He is as important to the national team as he is to us. I'm sure Klinsmann will take good care of him and I'm sure Son will take good care of himself."
However, Klinsmann's interview has left Tottenham fans uneasy.
When asked about Son's fitness issues, Klinsmann said, "It's natural for international players to feel tired because of the long flights. But the national team is the highest honor you can have as a player. Overseas players are always expected to play full-time. They're used to traveling long distances, and a call-up to the national team feels like a treat or a vacation. We'll keep an eye on them, but we don't plan to force them to play or rotate them."
"Son Heung-min is expected to play a big role for the national team during the A-Match, despite having been dealing with a groin injury for the past few weeks," said Football London. While concerns have been voiced locally, Klinsmann's comments make it more likely that those fears will be realized.
But there was a twist. Son Heung-min was rested against Tunisia, as Tottenham had hoped. In his place, Lee Kang-In stepped in and formed an offensive line with Lee Jae-Sung, Hwang Hee-Chan, and Cho Kyu-Sung. Despite the absence of Son Heung-min, the national team's offense was impressive. Lee Kang-in scored multiple goals, including his A-match debut, and Kim Min-jae forced an own goal with a header. Even Hwang Eui-jo, a late substitute, found the back of the net in stoppage time to seal the 4-0 victory.
A big win without Son Heung-min. British media outlet Football London also highlighted this. "Son did not 스포츠토토 play against Tunisia on Friday. This will be good news for Postecoglou, as he hasn't been 100% recently. Everyone at Tottenham was hoping that he would be able to get some rest so that he could return to full fitness."
Spurs fans are reacting to the news differently on fan sites. "Klinsmann is a Tottenham legend," "We need to apologize to Klinsmann," "Thank you," and more.